Two weeks ago I attended the Values in Design Workshop hosted by the VID Lab at UC Irvine. About 60 doctoral students from across the country (and a few international students) came together address design challenges for a week. I was matched up with a great team and we tackled the design challenge of polyphony. We heard lectures from a range of really interesting scholars, including Carl DiSalvo, Paul Dourish, and Helen Nissenbaum. It was great to catch up with CSST fellows that I had met earlier in the summer and hang out with Morgan Currie (also from UCLA IS).
The organizers, Cory, Geoff and Judith did a great job, the workshop was an amazing experience.
Shout outs to my awesome team: Matt Burton, Melissa Chalmers, Thomas Lodato, Milena Radzikowska, and Grant Wythoff.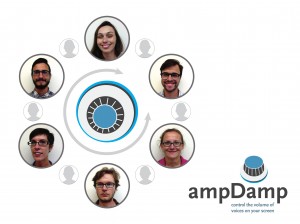 We designed AmpDamp, a knob that lets you control the volume of voices on your screen. More on that project in another post.