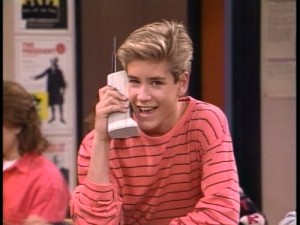 Characters using mobile phones on TV shows have been around for awhile. Lately, I've been paying attention to when texting practices–reading and writing texts become plot devices that point to the arc of an episode, sometimes even the meter and structure of the whole show. I haven't found the first case of text messaging on TV, but I have two hypotheses.
The first long-term commitment to texting as a plot device in an American serial tv show over multiple seasons that I remember would probably be Veronica Mars with her t-mobile sidekick (starting in 2004). At some point between seasons 1 and 2, Veronica's cell phone use becomes an indelible part of her super sleuthing powers. More on that later. The sidekick was one of the first smartphones with internet access for IM chatting, it didn't really have apps, but Veronica made use of the email, texting, and the camera on her phone to solve crimes and keep in touch with her dad.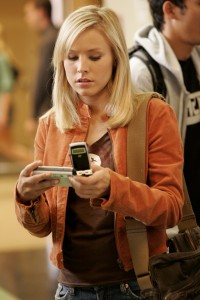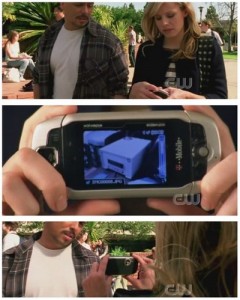 The Real World/Road Rules Challenge show that's been running since 1998 is another example of texts marking a specific plot point in the show. Since 2005 it has used texts from the host, "clues from T.J." to hint at the ensuing team challenge of each episode. Besides advertising for a mobile network provider, the texts usually emphasize the place-ness of the challenge by telling the contestants what to wear and guess at what's in store: "Bring your speedos and get ready for a splash."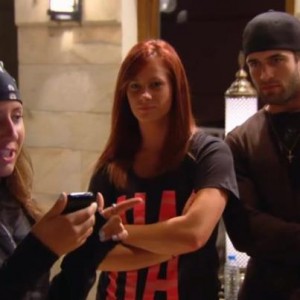 Camila reading a text from TJ
My favorite example of texting as a substantial plot device in a series is Pretty Little Liars. The show starts a year after the queen bee of a group of girls has disappeared. The clique receives texts from each other and a mysterious bully named 'A' several times an episode (except for when Adam Lambert guests and they're all proximate to each other). PLL will occasionally use MMS but unfortunately relies on mock-ups of texts and mobile operating systems, so reading over a character's shoulder can look a little ham fisted since the font size appears to be 36 pt. Several times throughout a season PLL will end with all four girls' phones text alerting for a cliff-hanger (usually during a mid-season break). PLL also uses texting to engage the audience, you can even sign up for text alerts and updates from A!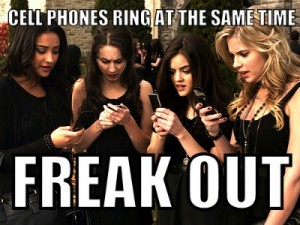 Mobile phones aren't the first time the introduction of a communication device moves the plot of a show along. The telephone practically has a whole b-plot arc once it is introduced in Downtown Abbey, season 2. But the different ways mobile phones are used by characters at different times for different reasons are worth noting. For example, The Good Wife's Alisha gets calls from work but mostly texts from her teenaged kids; while Kalinda, the firm's private investigator uses her phone in multiple ways (like Veronica Mars) to gather evidence for her work, and there is usually a wink to the audience when someone else answers her mobile or she picks it up to hang up right away. It's also fun to notice when using a mobile phone to make calls is terribly behind the times in a present-day show. I'm thinking especially here of Linden on The Killing who constantly calls her son Jack. Everyone with a teenager in their life knows it's better to text than call. No big deal, The Killing has been critiqued for some of the silly coincidences with cell phone habits of its lead characters and treating the audience as if we don't have smartphones and are too stupid to know how people actually use them (cf. article & comments).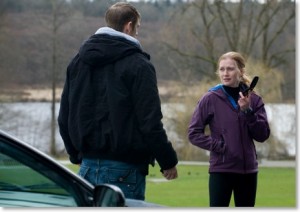 I would be remiss if I did not mention the ultimate tv & texting exemplar series: Gossip Girl. The confluence of smartphones, class and blog updates ("Gossip Girl blasts") underscore the action of this show. I haven't actively watched this show for three seasons, but the important thing to mention here is that the production does its due diligence with product placement, multiple modes of use, network coverage and shifting contracts because each character uses new handsets (almost) every episode. This revolving door of mobile devices means that the first six seasons GG are an archive of smartphones as dead media. Anyone remember Blair Waldorf's Blackberry Tour 9630?? Speaking of dying media, occasionally we see the operating systems of these phones with different version updates for their messaging apps (which aren't mock ups and actually get screen time). A memorable one for me was when Nate Archibald busted out a windows Kin phone, and we were all like whaaaaaa?
There are other layers of cell phone symbology here (nerd alert) that tie Gossip Girl to the original texting tv show: the anonymous titular narrator of GG is voiced by Kirsten Bell, who got her start on Veronica Mars. Also, GG, PLL, and Veronica Mars all started off as YA novels.