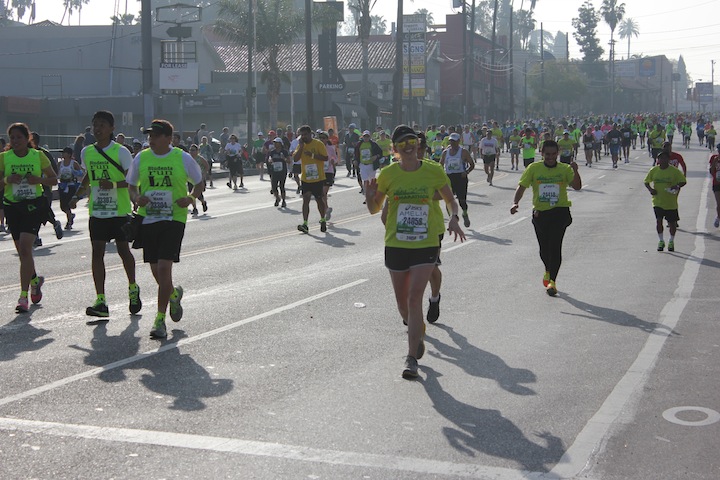 A few weeks ago I ran the Los Angeles Marathon from Dodger Stadium to Santa Monica. It was an amazing race. I ran with 24,000 people. Hundreds of people came out to cheer and it was so fun to see so many different neighborhoods throughout LA.
While I trained for the race, I collected data for 12 weeks about my runs and other things like calorie intake before, during and after long runs, and my sleep schedule. For most of my tracking I used my Nike Running+ app and a Nike+ sportband, but I also used my calendar and spreadsheets to log data. In the future, I'm thinking I might branch out to a Fuelband, Jawbone or a Fitbit activity tracker.
For most of my training I didn't need to fuel during my runs, I would drink protein shakes pre and post workout. But after running for two hours or more I needed to start fueling during the run. I found that fueling during the marathon with gels that have caffeine gave me just the boost to keep motivated and stay at my target pace.

The only thing that I hadn't planned during my tracking was that my cell phone battery would run out. The GPS tracking for more than 5 hours ran down the battery at mile 25. I was so sad that I didn't get to see the Nike+ marathon animation for accomplishing that goal.

Data tracking was really fun and accomplishing the goal of finishing the marathon was incredibly rewarding. I'm still trying to figure out what to do with this data, and I think I need more to draw more conclusions. So I've decided to continue tracking while training and sign up to run the first half of the San Francisco Marathon in June. After 6 months, I think that I'll be able to have a more comprehensive data spread and make more conclusions about my quantified self project.