Carrying a mobile phone and using it in different ways marks a commitment to a certain type of digital lifestyle. It's one of many ways to experience connection, what some call a 'networked life'. We've all had moments where we wonder out loud, "What did we do before mobile phones?" For teenagers (and now lots of adults) who grew up with pagers and mobile phones, it's even easier to ask, "What kind of person am I without my phone?"
When I am spinning, I listen to a lot of Top 40. In the last year or so, I've been struck by increasing references to mobile phones and texting practices in pop music. Usually, the singer will speak to the ubiquity mobile phone use, such as carrying it all the time, and then they will spin that observation on its head, describing how the custom of carrying it all the time is actually a restraint, a form of remote control. Lots of lyrics about mobile phones reference the way a phone can feel like a leash in relationships. They rely on the notion that we carry a mobile network connection all the time, in our pocket or purse. There is a tension in some pop lyrics that speaks to the in-between-ness of carrying the phone and the person you are without it.
The first single that really got me thinking about this is in the second verse of Inseparable by Mariah Carey featuring Trey Songz. In the beginning of the song, the singer is waiting for a call with a personalized ringtone. Accessing content stored on her phone keeps reminding her of the person who is gone, the phone documents a collection of memories about the relationship:
Videos on my phone, why can't I just erase them…
The first text I ever got from you still saved in my inbox
And I read it like time after time
Video Phone by Beyoncé featuring Lady Gaga also features the power of accessing local storage on the phone, by playing on the ability to retrieve documentation as the only way of accessing the object/subject of affection. In this case the potential love interest can only experience the singer through a video captured by a phone, she won't make herself accessible in any other way. There's also Telephone, where the idea that your phone represents a level of "always-on" accessibility unless you don't have it. Gaga and Beyoncé implore:
Stop callin' stop callin'
I don't wanna think anymore
I left my head and my heart on the dance floor
Stop callin' stop callin'
There is a sense of self and presence that can be ascribed to things and 'being present' like the dancefloor or the phone in this song. In these lyrics the speaker puts her head and heart on the dance floor while resisting the phone's affordance of availability, sick and tired of the phone ringing, this is how she confronts the fatigue of the phone's remote connection.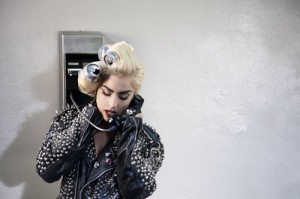 The culture of being connected, and the qualities of always feeling connected through the network and to the network is another theme that singers have been incorporating. In Part of Me, Katy Perry wants to know who's really there for her when she doesn't have her phone, presumably access to its address book and a mobile network. Katy sings about the limits and possibilities of being without one's phone (and I don't think it's coincidence that she enlists in the Marine Corps in the music video to prove the power of disconnecting). She's playing with the idea of connecting to friends beyond the voice or text connections that the phone affords:
I just wanna throw my phone away
Find out who is really there for me
Ok, so maybe these aren't very new ideas. There have always been great songs and music videos that feature aspects of telephone practice. I'm thinking of Bye Bye Birdie's party line song Telephone Hour, and Blondie's Call Me, ELO's Telephone Line. But in most cases, wired phones that appear in historical pop music lyrics reference the real limits of plain old telephone services, that of having to be tethered to a wall by a cord, being in a specific place (at home or a payphone) to wait for a call.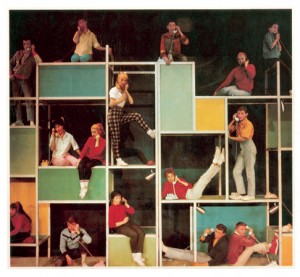 The differences between lyrics about telephone calls and mobile phone practices rely on our understandings of mobility. Culturally we are seeing a shift in conceptualizing accessibility with mobile data networks–the rise of mobile connections brings a slew of practices that assume and negotiate new ways of always being connected. These new ways include pretending not to be connected by ignoring your phone or creating the impression that you are actively ignoring calls or message alerts.
One example of this is receiving, reading and responding to text messages. In Heartbeat, Childish Gambino sings about how he physically can't speak when this girl is around but he can text her. He knows that she'll ignore his text by turning the phone over, but acknowledges that by looking at the screen, changing the orientation of the phone, and not responding by texting back is an acknowledgement nonetheless. He knows, she knows, and we know that all text messages are read, even if they're not responded to immediately. He refers to the codes of texts in this song and another, The Longest Text Message.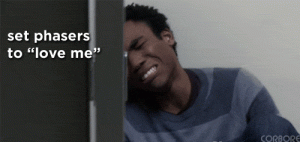 Being able to text someone and connect to them when you can't be physically present, or further, when you can't text back are other angles of this culture of connection that I'd like to hear more about in pop music because there are very few places where you can't carry your phone and interact with it. My new gym has a sign in the spinning studio that reads, "This is a texting-free zone." I love hearing lyrics referencing text messages and texting practices on the radio and especially where phones are forbidden, like in spin class: it confirms my idea that texting will be one of the most significant forms of documentation in personal digital archives and in the 21 C. Send references my way if you think of ones I may have overlooked. And remember, no texting while spinning or biking.